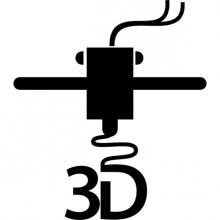 Wiki says: 3D printing is any of various processes in which material is joined or solidified under computer control to create a three-dimensional object.
I have built my custom 3D printer and use it to download and print some usefull stuff form internet or to design and build my custom machinery.
I was asked to print a replacement for a broken part of an elevator. I don't know where exactly this piece fits on actual elevator, but it seems to be a cover of an emergency telephone speaker.
Originally I wanted to do it my traditional way. First scan the piece using ordinary 2D scanner. Then trace outlines in Inkcape to get vector paths. Export paths to Openscad and there use several extrusions, differences, joins and other operations to create a model. 
It's a while I last did some hardware project and I had an idea of building a gimbal in my head for some time now. And suddenly I discovered somebody who was selling brushless gimbal motors for cheap. That was the first impuls. I ordered these motors and started to study what is needed to control the gimbal and started to design the construction.
Before christmas 2017 we had LDTPardubice meeting and I wanted to bring there some traditional czech christmas sweets, but in original shape. In shape of the LDTPardubice logo. In the same time, my girlfriend was visiting  her friends in Soria - Spain and had similar idea: czech sweets in shape of the Soria horse.